DRAGON® Medical Practice Edition 4 – UPGRADE $599.99*

Give Us A CALL TODAY!
(877)776-1276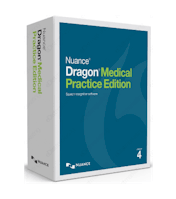 Nuance Unveils AI-Powered Dragon Medical Practice Edition 4 to Improve Documentation Accuracy and Efficiency. Download FAQ sheet
Burlington, Jan. 22, 2018 (GLOBE NEWSWIRE) — BURLINGTON, Mass., January 22, 2018

Nuance Communications, Inc. today announced the release of Dragon Medical Practice Edition 4, the latest locally installed version of Nuance's industry-leading clinical speech recognition solution for smaller practices. Through deep learning technology and sophisticated acoustic models, Dragon Medical Practice Edition 4 puts Nuance's leading artificial intelligence (AI)-powered technology in the hands of busy clinicians in independent practices. Increased documentation efficiency allows for more time with patients, improved quality to better inform care teams and staff, decreased turnaround time and increased cost savings.
Dragon Medical Practice Edition 4 is an easy-to-install, easy-to-use documentation solution that enables enhanced clinician productivity within practices of 24 clinicians or fewer though quick creation of accurate patient notes to help keep pace with patient loads and better manage practice throughput. Distinct from non-medical speech recognition solutions, this latest edition combines state-of-the-art speech recognition technology with 90 medical vocabularies and sophisticated acoustic models to yield 99 percent accuracy out-of-the-box, with no need for voice profile training.

Read the full press release here

More than 99% accurate out of the box
Features that make a difference
Over 90 medical specialty and sub specialty vocabularies
3x faster than typing
regional accent support
Customizablemacros
Hidden dialog mode
Major advantages of DMPE4 upgrade
Runs in multiple processor cores on Windows 7,8,10 PCS, so significantly faster, often 2 or 4 times
14% accuracy increase, almost reads your mind, compared to previous DMPE2
Significantly smoother than previous versions